Travelling south from Rhodes Town along the east coast the first area of note is the spa resort of Kallithea now, sadly, in disrepair. Built for the Italian nobility in the 1920ís it is a popular spot at weekends with the locals who enjoy swimming in itís beautiful little cove. It is also a popular scuba diving spot. Restoration has now begun at the spa and tourists and locals alike look forward to when it is restored to itís former grandeur. Whilst strolling through the unrestored domed promenade visitors may notice that at every turn there are rows of toilet cubicles, in fact 72 in all !! The answer to this mystery is that the spa waters have a laxative effect. The original designers were obviously concerned that no member of the Italian nobility should ever be caught short !!

Restored entrance pergola, Kallithea
(Please click on images to view larger photos)

Partly restored domed spa

Unrestored domed promenade, Kallithea
Further down the east coast road you will see the many 4 and 5 star hotels at the northern end of Faliraki Beach. The more youth orientated southern end of the town is now coming under very strict control to curb the excesses of previous years which, it is generally agreed, will become a thing of the past.
Continuing south, the island becomes more rural with stunning mountain and sea views from the main Rhodes to Lindos road. There are many excellent beaches on the way including Ladiko, Kolimbia, Tsambika and Archangelos. The monastery that sits atop the steep and very high hill overlooking Tsambika Bay is the subject of a piece of interesting folklore. If local women are having difficulty conceiving a child they may crawl up the hill to the monastery and legend has it that they will soon be with child. Jokes about monksí dirty habits have already been done thank you !!


View of Tsambika Bay from Aegean Homesí new project, Tsambika Vista.
(Please click on images to view larger photos)
From this area , travelling inland, it is a short drive to wooded glades running with cool spring waters such as the Valley of the Butterflies which, from June to September, is home to hundreds of thousands of the creatures covering the trees. Or Seven Springs, a beautiful valley running with spring water with ducks and peacocks wandering around. Set amongst the trees are tables and chairs where you will be served with sumptuous barbequed meats and fresh salads. Magical !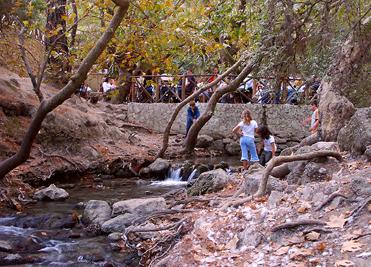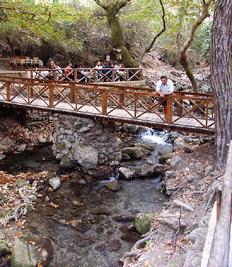 Seven Springs is a beautiful valley running with spring water.
(Please click on images to view larger photos)