After leaving Prassonisi on the southern tip and passing the traditional village of Katavia we take the coastal road heading up the west coast in a northerly direction.
This area is very rugged and the waves, driven by the westerly wind, are usually quite rough. After the calm east coast it looks & feels like a totally different island.
MONOLITHOS
After passing the quiet village of Apolakia we approach Monolithos village, named after the hugely impressive ruins of the crusader castle that sits atop a rocky outcrop looking out to the most incredible sea views.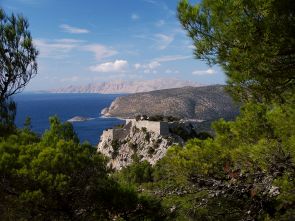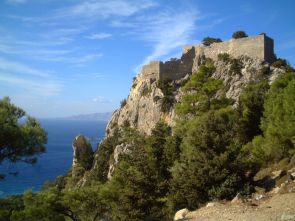 Monolithos Castle sits imposingly high, with a commanding view of the west coast.
(Please click on images to view larger photos)
On our journey north we encounter virtually no tourist development on the west coast.
Passing through Siana, Kritinia and Mandriko we reach Ancient Kamiros where you can walk amongst the ruins of the ancient town that was at itís height in the 6th. century BC.
Wandering the streets and referring to the information pamphlet describing the various uses of the buildings, one can get a real feeling of community here.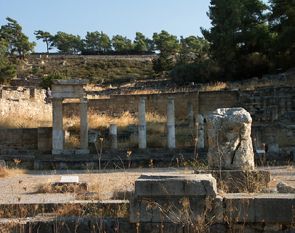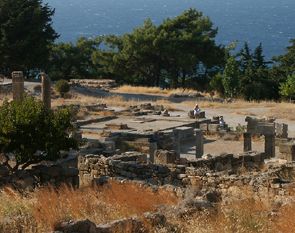 Ancient Kamiros - a rural society largely abandoned by the 4th century BC.
(Please click on images to view larger photos)
From Kamiros we pass through Kalavarda, Fanes, Soroni and Tholos all of which have good beaches and light tourist development until we approach Paradisi and the the airport.
From here a short drive through the busy northwestern resorts of Kremasti, Ialissos and Ixia lead us back to Rhodes Town.
Here we end our tour where we began in Rhodes Town, an incredibly impressive place to visit. Even those with little regard for history cannot help but to be taken aback by the sheer scale of the city walls and living history that lies within them.
This is but the beginning of a journey that has captivated many thousands of people from all over the world. Rhodes Island has an indefinable something that brings people back year after year after year. Come join us !!